YubiKey SmartCard¶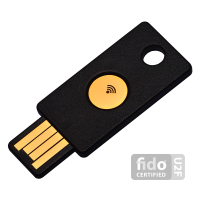 The YubiKey NEO support the Personal Identity and Verification Card (PIV) interface specified in the National Institute of Standards and Technology (NIST). This enables you to perform RSA or ECC sign and decrypt operations using a private key stored on the YubiKey. Your YubiKey acts as a SmartCard in this case, through common interfaces like PKCS#11.
Additional Software¶
YubiKey PIV Manager (with graphic interface)

YubiKey PIV Tool (command line)

OpenSC - Smart card utilities with support for PKCS#15 compatible cards
$> sudo apt install yubikey-piv-manager opensc

Setup the Yubikey NEO¶
If you have a YubiKey that was not previously set up with YubiKey PIV Manager, a PIN has to be set the first time YubiKey PIV Manager is accessing the YubiKey.
Mozilla Applications Configuration¶
The procedure is the same for Firefox Browser, Thunderbird Mail Client and Tor Browser Bundle.
Find the location of the OpenSC PKCS#11 library installed earlier:
> find /usr/lib -name opensc-pkcs11.so
/usr/lib/x86_64-linux-gnu/opensc-pkcs11.so
/usr/lib/x86_64-linux-gnu/pkcs11/opensc-pkcs11.so

The second one usually is just a link to the first one.
In your Mozilla Application …
Open "Settings"

Select "Advanced"

Select "Certificates"

Click the "Cryptographic Modules" button

Click the "Load" button

Change the module name to "OpenSC PKCS#11 Module"

Enter the path of the library as found before (/usr/lib/x86_64-linux-gnu/opensc-pkcs11.so)

Click the "Ok" button