Mozilla Firefox is default web browser in Ubuntu and therefore already installed.
Select "Edit" - "Preferences" from the menu.
Select the "General" tab in the Preferences dialog.
Change Home Page to https://duckduckgo.com/: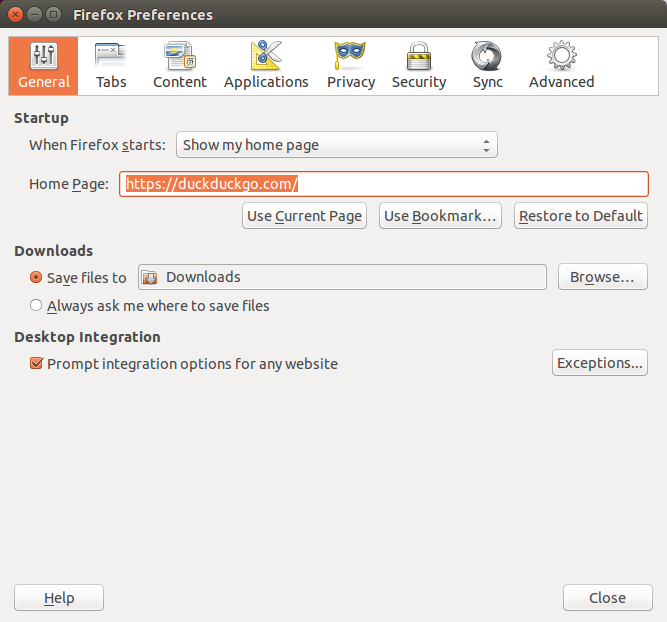 Untick "Prompt integration options for any website" below "Desktop Integration":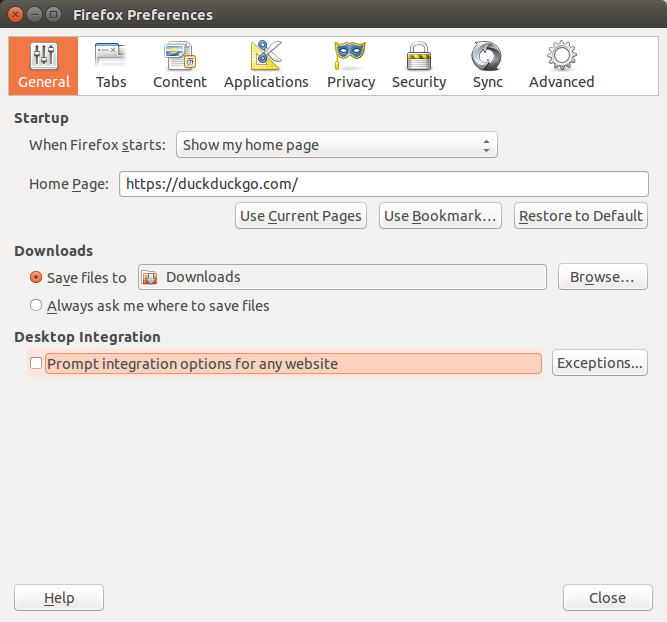 Select the "Privacy" tab in the Preferences dialog.
Select "Tell sites that I do not want to be tracked" under "Tracking":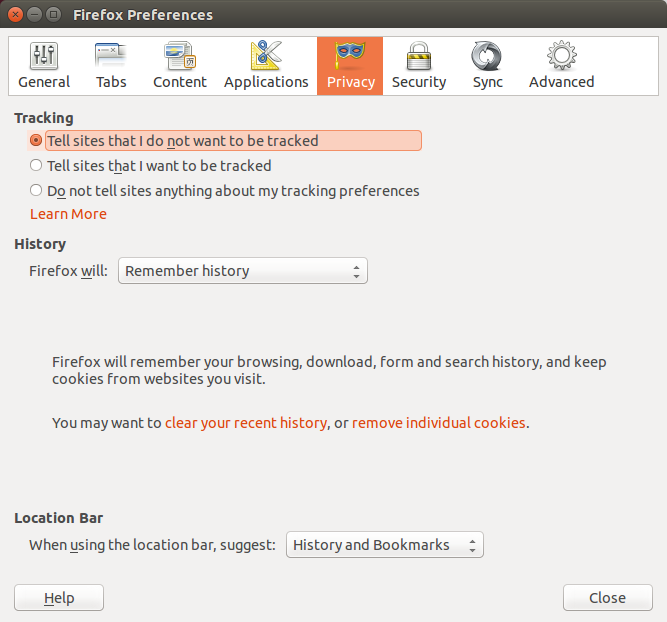 History settings:
Select "Use custom settings for history".
Untick "Always use private browsing mode"
Untick "Remember my browsing and download history"
Untick "Remember search and form history"
Tick "Accept cookies from sites"
Select "Never" in the "Accept third-party cookies" dropdown.
Select "they expire" in the "Keep until" dropdown.
Tick "Clear history when Firefox closes"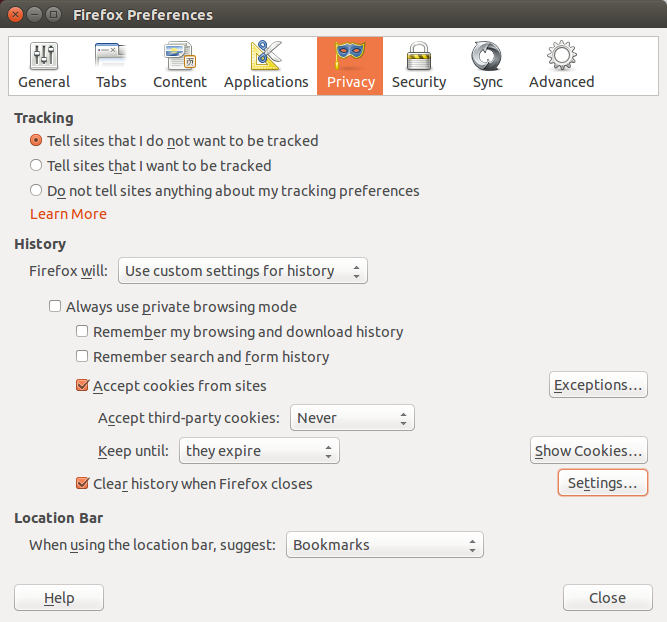 Click the "Show Cookies…" Button:
You will see already an awful lot of cookies in the list, even on a freshly installed system after just a few minutes of browsing the web: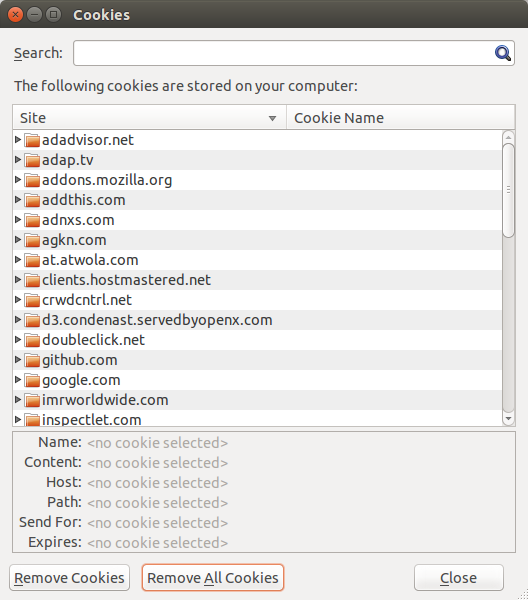 Click the "Remove All Cookies" Button and close the dialog.
Click the "Settings…" Button beisdes the checkmark "Clear history when Firefox closes":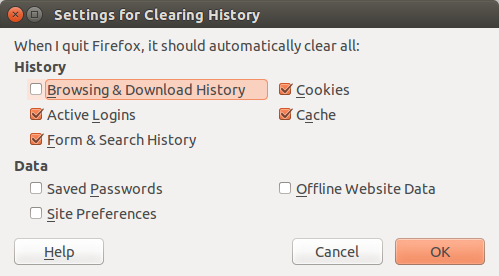 Don't worry about these rather restricting cookie-settings, as they will be managed by some extensions we will install later on.
There are alternative search engines who offer same quality, but better privacy, as the ones from Google, Yahoo or Microsoft.
Startpage puts itself between your browser and the Google search engine. The search results are generated by Google, but without your computer connecting with Google servers.
Additionally they offer to fetch any website and display it for you, without that any connection between your computer and the target website is made.
See their "Add to browser" page for help to add it as search engine.
The Mycroft project is a directory of thousends of search engines, which can be each added to your search egine list.
The following search engines can be removed, by clicking the dropdown list of search engines and choosing the "Manage Search Engines" entry at the bottom of the list:
Google
Yahoo!
Bing
Amazon
eBay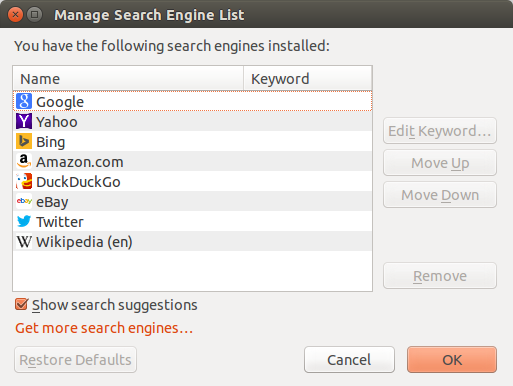 Click on the "Remove" Button for every search engine you want to have removed.
Various pages check your browser for vulnerabilities against current threats.
How's My SSL? is a cute little website that tells you how secure your TLS client is. TLS clients just like the browser you're reading this with.
SSL Labs Client Test shows you the SSL/TLS Capabilities of your Browser and vulnerabilities against selected discovered security issues (i.e. FREAK, POODLE).
Qualys® BrowserCheck recommends you to scan your browser regularly to stay up to date with the latest versions and plugins.
Type about:config into the Firefox address bar.
Left click your mouse on the displayed list of configuration values to add new values
Select "New" - "Boolean" from the fly-out-menu.
In the appearing dialog input the following string:
network.protocol-handler.expose.xmpp

Set it to true
Select "New" - "String" from the fly-out-menu.
In the appearing dialog input the following string:
network.protocol-handler.app.xmpp

Set it to /usr/bin/purple-url-handler