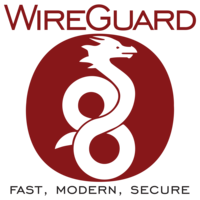 Virtual Private Network¶
WireGuard is an extremely simple yet fast and modern VPN that utilizes state-of-the-art cryptography. It aims to be faster, simpler, leaner, and more useful than IPSec, while avoiding the massive headache. It intends to be considerably more performant than OpenVPN. WireGuard is designed as a general purpose VPN for running on embedded interfaces and super computers alike, fit for many different circumstances.
Warning
As of this writing (Dec. 2017) the WireGuard code ..
is pre-release software.
has to be considered as experimental and not yet complete.
has not undergone proper degrees of security auditing.
is still subject to change.
may contain security vulnerabilities which would not be eligible for CVEs.
Usage Scenario¶
Several of our internal services have either no built-in support for encrypted communications (Redis) or its hard to get it right (e.g. MariaDB, Memcached).
Others may provide additional features or caches or APIs (e.g. PowerDNS REST API, Postfix lookup tables, status queries) which are meant to be used on the same machine or inside a local network.
With the WireGuard VPN we can let them talk to each other across the globe without disclosing any data to outsiders.
Server-1                     Server-2
--------                     --------
public IP <--- Internet ---> public IP
    |                            |
    |                            |
WireGuard                     WireGuard
    |                            |
    |                            |
private IP <----- VPN -----> private IP
    |                            |
    |                            |
 MariaDB                      MariaDB
 Redis                        Redis
 Postfix                      Postfix
 Rspamd                       Rspamd

Network Design¶
Networks, subnets, port, and corresponding access rules and rights are already complex and get more complex, the more servers and services are added. VPN add another layer on top of all that and changes all all these already hard to grasp parts. Therefore a clear design concept is needed for reference as we go one.
Software Installation¶
Om each host:
$ sudo add-apt-repository ppa:wireguard/wireguard
$ sudo apt update
$ sudo apt install wireguard-dkms wireguard-tools
$ sudo touch /etc/wireguard/.reload-module-on-update

Key Generation¶
On each host.
Create a private key:
$ 

cd

 /etc/wireguard
$ 

umask

 

077


$ wg genkey > privatekey

Create the public key:
$ wg pubkey < privatekey > publickey

Create public and private keys:
$ wg genkey 

|

 tee privatekey 

|

 wg pubkey > publickey

Configurations¶
Create the file /etc/wireguard/wg0.conf: on each host:
Hetzner - San Francisco¶
| | |
| --- | --- |
| Public IPv4 Address | 185.73.22.8/32 |
| Public IPv6 Address | n/a |
| Tunnel IPv4 Address | 10.195.171.88/24 |
| Tunnel IPv6 Address | fdc1:d89e:b128:6a04::13a6/64 |
| Private IPv4 Subnet | 172.27.88.0/24 |
| Private IPv6 Subnet | fdc1:d89e:b128:13a6::/64 |
; WireGuard Configuration for example.net




; Hetzner, San Francisco





[Interface]




PrivateKey

 

=

 

yAnz5TF+lXXJte14tji3zlMNq+hd2rYUIgJBgB3fBmk=




ListenPort

 

=

 

33541




Address

 

=

 

10.195.171.88/24, fdc1:d89e:b128:6a04::2615/64





[Peer]




; Rackspace, London




PublicKey

 

=

 

TrMvSoP4jYQlY6RIzBgbssQqY3vxI2Pi+y71lOWWXX0=




Endpoint

 

=

 

wg.tor.rack.example.net:33541




AllowedIPs

 

=

 

10.195.171.126/32, fdc1:d89e:b128:6a04::2615/128




AllowedIPs

 

=

 

172.27.126.0/24, fdc1:d89e:b128:2615::/64





[Peer]




; Rollnet, Phoenix




PublicKey

 

=

 

gN65BkIKy1eCE9pP1wdc8ROUtkHLF2PfAqYdyYBz6EA=




Endpoint

 

=

 

wg.lon.roller.example.net:33541




AllowedIPs

 

=

 

10.195.171.74/32, fdc1:d89e:b128:6a04::41c5/128




AllowedIPs

 

=

 

172.27.74.0/24, fdc1:d89e:b128:41c5::/64



Rackspace - London¶
; WireGuard Configuration for example.net




; Rackspace, London





[Interface]




PrivateKey

 

=

 

yAnz5TF+lXXJte14tji3zlMNq+hd2rYUIgJBgB3fBmk=




ListenPort

 

=

 

33541




Address

 

=

 

10.195.171.126/24, fdc1:d89e:b128:6a04::2615/64





[Peer]




; Hetzner, San Francisco




PublicKey

 

=

 

xTIBA5rboUvnH4htodjb6e697QjLERt1NAB4mZqp8Dg=




Endpoint

 

=

 

wg.sfo.hetzner.example.net:33541




AllowedIPs

 

=

 

10.195.171.88/32, fdc1:d89e:b128:6a04::2615/128




AllowedIPs

 

=

 

172.27.88.0/24, fdc1:d89e:b128:13a6::/64





[Peer]




; Rollnet, Phoenix




PublicKey

 

=

 

gN65BkIKy1eCE9pP1wdc8ROUtkHLF2PfAqYdyYBz6EA=




Endpoint

 

=

 

wg.lon.roller.example.net:33541




AllowedIPs

 

=

 

10.195.171.74/32, fdc1:d89e:b128:6a04::41c5/128




AllowedIPs

 

=

 

172.27.74.0/24, fdc1:d89e:b128:41c5::/64



Rollnet - Phoenix¶
; WireGuard Configuration for example.net




; Rollnet, Phoenix





[Interface]




PrivateKey

 

=

 

yAnz5TF+lXXJte14tji3zlMNq+hd2rYUIgJBgB3fBmk=




ListenPort

 

=

 

33541




Address

 

=

 

10.195.171.74/24, fdc1:d89e:b128:6a04::41c5/64





[Peer]




; Hetzner, San Francisco




PublicKey

 

=

 

xTIBA5rboUvnH4htodjb6e697QjLERt1NAB4mZqp8Dg=




Endpoint

 

=

 

wg.sfo.hetzner.example.net:33541




AllowedIPs

 

=

 

10.195.171.88/32, fdc1:d89e:b128:6a04::2615/128




AllowedIPs

 

=

 

172.27.88.0/24, fdc1:d89e:b128:13a6::/64





[Peer]




; Rollnet, Phoenix




PublicKey

 

=

 

gN65BkIKy1eCE9pP1wdc8ROUtkHLF2PfAqYdyYBz6EA=




Endpoint

 

=

 

wg.lon.roller.example.net:33541




AllowedIPs

 

=

 

10.195.171.74/32, fdc1:d89e:b128:6a04::41c5/128




AllowedIPs

 

=

 

172.27.74.0/24, fdc1:d89e:b128:41c5::/64



Open Firewall¶
Allow Incoming WireGuard Connections¶
On all hosts:
$ sudo ufw allow 

33541

/udp

Allow Private Subnets¶
$ sudo ufw allow in on wg0
Start¶
sudo systemctl start wg-quick@wg0